How many creatives do you need to test to scale your User Acquisition by 10x?
The answer: 74
(At least in this case.)
At Miri, we know how much a single creative can impact the performance of a campaign. How are we so certain? Because we've seen time and time again how one new creative concept can completely change the game for our clients- reducing CPIs, improving post-install conversion rates, and hence increasing the ROAS- allowing us to scale UA campaigns profitably and in line with objectives.
We published a case study on the successful launch of Nanobit's title, 'My Story', on Snapchat. Over a three month period, we were able to scale UA spend by 10x, reaching 92k installs in a one-week period. How did we achieve this? Here's a summary of our processes and, specifically, how new creative concepts lead to this improved performance.
When we began our collaboration with Nanobit, Facebook was their number one spending channel. They were looking to expand their marketing potential, diversify their User Acquisition spend and find new opportunities to scale their apps. Although they saw potential on Snapchat, they didn't have the in-house expertise or capabilities to test it themselves.
"We took on Miri due to their experience on this platform and their hunger to deliver."
Farhan Haq – Head of User Acquisition, Nanobit
We started with a thorough analysis of existing activity on Facebook, discovering which demographics had the best ROAS and digging deeper to see which audiences were the cheapest to acquire, and of those, which converted best. We identified some trends amongst the creatives on Facebook and thought about how best we could apply these learnings to launch with the strongest possible start on Snapchat.
Putting our methodology into practice
Once our strategy was defined, we put our methodology into practice. This consisted of testing 5 videos each week on a range of audiences, utilising the Facebook analysis, but also including a mix of concepts and targeting options that were "outside the box".
For the first few weeks, we ran low scale campaigns in only US iOS. Some incremental spend was achieved by trialling different geo and platform combinations, but we couldn't see any significant scaling opportunities. Only after 3-4 weeks of high-frequency creative testing did we find a new top performing creative, and then another one, quickly after. This allowed us to double our spend and reduce our CPIs by 26%.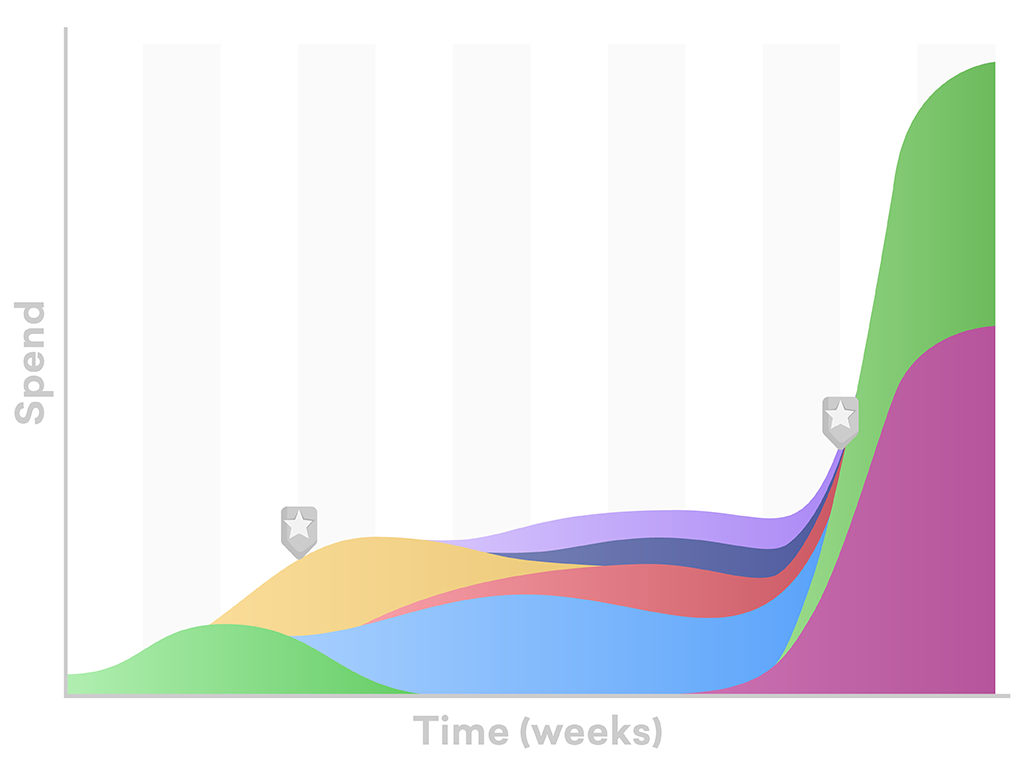 After the first month, we had already tested a variety of exploratory concepts and a number of hypotheses to try pin down why certain creatives perform successfully and others poorly, and to figure out how we can find that next performing ad even more effectively. From the 26 ads that we tested, 2 allowed us to beat our lowest CPIs. Still- there was room for improvement.
Over the next 5 weeks, we found a number of creatives that performed well, but only enough to reduce the impact of ad fatigue on the account- the level of spend was maintained and was more diversified across a few top performing ads. We focused on iterations, trying to find themes that stood out as highly converting, but ensured that we were still testing new ads to explore unique concepts.
These new concepts were what changed the game.
10 weeks into our partnership, and having worked on and tested around 50 creatives, we hit upon something drastically new. CPIs dropped by 47%, ROAS improved by 33%, and we saw an opportunity to make the most of it.
With this new creative we were able to scale campaigns by over 4x in the following few weeks, reaching a peak of 92k installs in a single week. We were able to maintain this higher scale with new creatives that were required to combat the ad fatigue that was setting in at a rapidly growing pace.
Since then, we've continued to work with Nanobit- helping them find success, diversify their creative strategies, and grow their games.
Don't assume you've maxed out on scale if things haven't changed in a number of weeks
Working on 5 new video ads each week isn't easy, but it can pay off
Try and test hypotheses where possible, but make sure you challenge yourself to think outside the box
Our key takeaway: Whilst we thought we found a number of well-performing creatives along the way, it was only when we discovered that one key creative that things really took off to a new level. Keep testing and challenging your assumptions to try and find that one new creative that will change your User Acquisition game.